Agency
Issue

❻
↓
Feature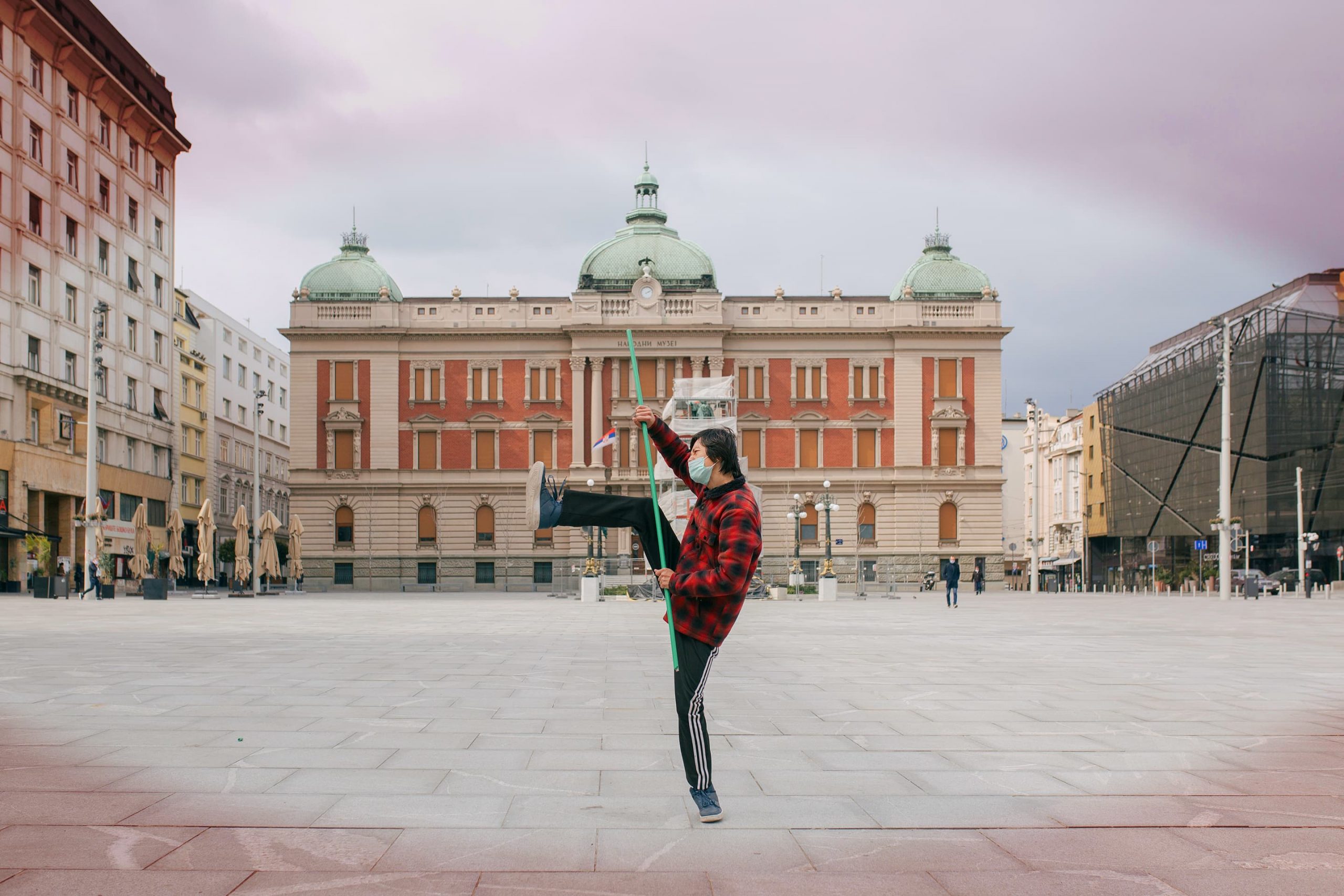 This issue is all about Agency. Who has it, who wants it, how it does or doesn't get made. 
Most of us, including some who have never experienced a real lack of agency before, have spent most of this year figuring out how to survive in a new world that forces us to deal with it on new terms.
When we were hunting for a cover image for this issue, I kept returning to the picture above, obsessed with its simplicity and power. Taken at the height of the COVID-19 pandemic in April, the photographer, a native Belgradian, happened upon a Chinese tourist in the Trg Republika, the central square in Belgrade. While the busiest part of the city was barren, the tourist took the opportunity to use the whole square to practice martial arts. I like to imagine this came from a need to own the circumstances that had grounded him far from home in the middle of a world-wide shutdown. A little normalcy in the abnormal, with a touch of the thrill of an unequaled opportunity: having what is normally a teeming urban space all to himself. In so many ways, this image is both delicious and empowering.
It is with this spirit, the desire to find both the opportunities and the pleasures around us even as we search for our footing, that we arrived at the topic of Agency for our final issue of our first year in digital publication.
This issue looks at some important foundational research conducted by historians and comparative literature researchers. It includes the insights of practical researchers in ethnography and strategic foresight (who will be sharing more with us in coming issues). We have stories of ambitious, international projects and small, stabilizing, community-based work. We even have a little art and activism from a filmmaker/sociologist tackling major gender-rights issues here and abroad. But most importantly, we have stories about people who have the strength to challenge what we are told to accept, to probe and question for better solutions, more safety and a more sustainable world.
If that ain't Agency, I don't know what is.
Now that we've shared a year of exclusively digital content (though we've been at this in print + digital for 5), as we launch Digital Year 2, we would love to hear more from you. What do you want to hear about in the coming year? What kind of thinkers and questions do you want us to bring to you? What have you liked and what needs work?
The initial goal with Peeps was always to bring information that is otherwise out of reach in journals, conferences, and business reportage into your hands because we want you to be empowered and inspired to make well-informed, sustainable change in the world—or at least have a great debate about how to do it!
Ohhh…and a quick note to tease you a bit about some upcoming fun: we're going audio! We will start sharing audio snippets from our articles with Issue 7, and the long-awaited podcast will be making its appearance before 2021. So much to look forward to!
Thank you for supporting our work. Without you, none of this would be possible.
So, let's raise a glass (or a mask and quarterstaff) to another year of Peeps with all of the power, integrity and insight of the last 5 years of work.
Skål! Twoje zdrowie! Ziveli! Gānbēi! Salud! Cheers!
__
Vladimir Zivojinovic is a documentary photographer based in Belgrade, Serbia. He started his career at the daily newspaper as a volunteer in 2015. His focus is on the news, social and humanitarian issues in the Balkans. Contact: vladimirzivojinovic.com or instagram.com/vladaa93